I am super excited to tell you that I am going to post my big master bathroom reveal any day now! It is actually finished!!! But that isn't my big announcement. (Although it may actually be life changing since I have been working on that sucker since October! )
I am officially announcing that we will be adding a BABY BOY to the family in late April or early May!
So, yes.. For those of you doing the math, I have been pregnant the entire time I have been working on my bathroom. The tiling was slow, not only because it was painstakingly tedious, but also because I was battling bouts of morning sickness though the entire process.
I am not sure how the new baby will impact my blogging this spring, but I hope to keep up with all my projects. Hopefully there will even be a new nursery reveal (and a few changes to the Princesses' bedroom) on the horizon.
My other big announcement is:
My BLOG is getting a name change!!!
Since "The Money Pit" insinuates you can't fix up your house without spending a lot of money (and if you know me you KNOW I don't like to spend money.. ) I have decided to "re-brand" myself. Since my name is Kim Six, and I am always trying to figure out how to do-it-myself I decided I would title the blog "The Kim Six Fix" I am fixing up my house my way.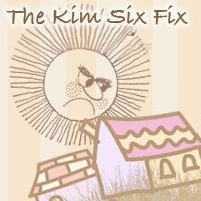 I like the look of my blog, so I am going to keep it mostly the same..so except for the title and URL, things should look just like they did before.
This transition should happen over this weekend and I am hoping it goes smoothly.. but if you read though a reader and aren't automatically redirected, please visit and subscribe to:
www.thekimsixfix.com
I also (eventually) will be changing my Pinterest, Facebook and Twitter accounts. Hopefully it won't be too confusing!