In case you haven't noticed, for Christmas I got some swanky new digs here at the Kim Six Fix. (If you are on mobile the look didn't change much, this is mostly new for my desktop readers! If you are reading this via email or an RSS reader, obviously you too won't notice a difference. )
Over the holidays I took a step back from blogging and rolled out this all new branding and blog design. I have an all new logo, new color scheme, new layout, new menu options.. and even a whole new way of categorizing my content:
If you aren't a long time reader, you may not know that originally my blog was named "The Money Pit." In 2009 when I first started the blog, I was mostly just venting about the trials and tribulations of mixing up my house and how I was about to lose my mind (and empty my wallet) doing so. The blog name was a reference to the
Tom Hanks and Shelley Long film
.
I had no idea, 6 years ago, that I would still be blogging in 2016 and that my blog would expand to include so much more.
If you go through the archives you can still
find images watermarked with the money pit name
(heck, I was still using a blogspot subdomain URL back then too):
And I still own
The Money-Pit.com
url (but it will send you right back here!)
The Grouchy Sun and little pink houses were the original header from 'The Money Pit' days. It was an ode to
all the bad luck
that seemed to be shining down on that
old Boston house
.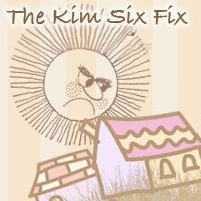 I was devastated back then, although I didn't mention it much on the blog since I knew I was in the wrong, the radio show did have the trademark, so I picked up and moved on, and I kept my old logo and branding since I didn't want to change both my name and how the blog looked.
My last redesign was about
a year and a half ago,
but I kept my header basically the same. However, the grouchy sun was making less and less sense. I had many people ask me why it was so unhappy. I knew eventually I would have to change it, but I couldn't decide when.
Over time my blog content has become a lot more diversified, with a mixture of not only DIY and building projects, but also a lot more crafts, recipes, and family related posts. I knew I had to figure out a way to keep everything more organized.

The first step was breaking up my newsletter into topics. I wanted to give readers the chance to customize when exactly they hear from me, and only get posts that they want to receive:
Yes.. you can actually sign up using that form! (It still needs to be re-branded!)

This division has been wildly successful and therefore I realized that I should also be breaking down the content on my blog the same way.
I wanted my blog to be more like a newspaper or magazine, with sections for each of the topics. Where you could easily find everything in one place, and if you didn't want to weed through crafts to find a recipes, you wouldn't have to.

And that is when it hit me: It was the perfect time to totally rebrand and redesign the blog. I decided to go with lots of PINK since I love pink (#GirlsWithPowerTools) and some simple line drawing icons which represent all the different aspects of the blog (My new header includes a drill, a paintbrush, a spool of thread and a hand mixer).


On the homepage I have broken the content into 5 main sections:



DIY (which is home improvement and building projects)

Crafts (including holiday and parties)

Recipes (yum)
The home page will always show the most recent posts from each category, as well as the five most recent posts chronologically (in case you like a little bit of everything).
I also have my featured projects at the top of the home page, which will be my most current hand picked favorites.


Finally, I have created a section exclusively for my contributors, so it is easy to find their content if you have a favorite.
The one drawback with having this much content on the home page is that sometimes it will take a little longer to load. I'm working on some fixes to that, but I hope you will hang with me until I can get it all fixed up. If you ever get hung up with it loading, a window refresh usually does the trick.

I also am still working on some of the menu items, since I needed to recategorize a LOT of content. Until then, I hope you will take the chance to look around and explore all the new layout has to offer.
Finally I would be remiss if I didn't mention, in case anyone is curious, that YES.. this is still in fact, a BLOGGER hosted blog. I didn't need to move to a Wordpress template to get these great features. I did purchase an html theme from Envato market so I could use some of their gallery scripts and other features, but it is highly customized specifically for Blogger.
Many people ask if I will ever migrate over to WP and the answer is "probably (99.9%) not."
I will never say never, but it definitely won't happen in the foreseeable future.