There are some really fun things going on in DIY blogland lately, and I wanted to share a few that I am planning on jumping into:
#1 Fair Weather Link Parites and The Alma Project
For the spring and summer, Kate at Censational Girl is hosting a series of
Link Parties
each with a different dedicated theme (from kitchen gadgets to movie characters.)I love the idea of figuring out a project to fit within relatively open parameters but with a very specific topic. It inspires me to try things I either haven't got around to, or never thought I would do. We will see what I come up with.
I have also volunteered to drive up to Marin County (north of San Francisco, in wine country) and help out with her house renovation for
The Alma Project
(which provides housing to previously homeless single mothers who are turning their lives around.)
You can't believe how excited I am to be able to use my DIY skills to help those people who really need it!! Kate is still in need of donations to cover the cost of the repairs if you are looking for a way to help. Just visit
her blog
and look for the donate button on her sidebar.

#2: Pinterest Exchange Party:
The Girl Creative has a new style Link party which involves your favorite Pinterest boards. Instead of featuring you blog post, you link your favorite Pinterest board. It is sooo fun, since you get to see what other bloggers are pinning without having to track them down on Pinterest AND you get to see how they organize their boards. Definitely check it out, and share your favorite Pinterest board:
#3: DebbieDoo's Copycat Magazine Challenge
DebbieDoo's has her Spring
Magazine Challenge
coming up (where you take a photo from a magazine and try to recreate it)

I am not sure yet what photo I am going to try to recreate, but I think I am going to give it a shot.
#4 The Great Toilet Paper Roll Challenge
Yes, Jenny at The Southern Institute has thrown down the gauntlet and challenged us to come up with our most creative use for toilet paper rolls. I have no idea what on this green earth I am going to do, nor have I begun saving TP tubes, but I better start.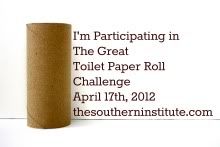 #5 Liebster Blog Award
"Liebster" is German for "Dearest". The award is a "Share The Love arrangement", given to inspirational bloggers with less than 200 followers.
I feel a lot like her when it comes to blog awards (*cough cough* pyramid chain letter*) BUT (big BUT, no not mine!) because this is an award for only small blogs (who, if they are like me, love the encouragement) I thought I would pass it on.
1. Thank and link back to the blogger who gave you the award on your blog.
2. Present the Liebster Blog Award to 5 other bloggers with less than 200 followers.
3. Let them know you've chosen them by leaving a comment on their blog.
Now I have to share who 5 of my favorite inspirational small bloggers are.
1.Micki at
Confessions of an ADD housewife
(she shares my love of grocery bargains and she is fixing up her very own Money Pit! A woman after my own heart)
2. Annie (and Dave) at
Behind Our Front Door
(because she is HILARIOUS and she feels the same way I do about wainscoting, so much so she had to come up with new names for it!)
3. Erica of
Erica and Weston
(I love how she does a little bit of everything.. cooking, sewing, crafting, DIY. I am not actually sure if she has less than 200 followers, but I'm running with it)
4. Carly at
C and C family
(She isn't necessarily a DIY blogger, although she knows her way around a sewing machine. She inspires me almost every single day.. for lots and lots of reasons and that is what this award is all about)
So there you have it. A quick run down of my highlights from the blogs I follow. So many things to do.. so little sleep to do them on.